Human rights journalist
Wyatt Massey (b. 1993) is a journalist covering human rights, poverty, housing, immigration and social movements. He was raised in Hollandale, Wisconsin and graduated from Marquette University with a degree in writing-intensive English and advertising. He runs ultramarathons and is unapologetically introverted.
Wyatt has reported from Haiti, India, New York City, Milwaukee, Baltimore, Washington DC, rural Kansas and the Atlantic Ocean. His writing and photographs have been published by CNN, The Baltimore Sun, America Magazine, US Catholic Magazine, YES! Magazine, A Beautiful Perspective and The Haitian Times.
​He is always looking for more work and collaborations. You can
contact him any time
.
Powered by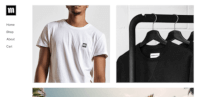 Create your own unique website with customizable templates.